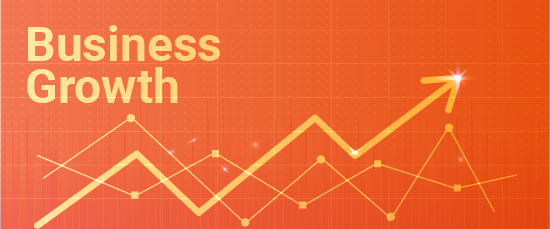 SEO for Business Growth: Seven Benefits CMOs Need to Know
Is SEO important for your business? – Yes, if you need to grow your audience and believe they "Google" everything they need, then SEO is important for your business. No matter what business you run; if your business has a website, you can bring your future clients to your website and increase your ROI by regularly doing the right SEO practices.
Search Engine Optimisation (SEO) is the process of optimizing your website to improve its visibility on search engines. This blog is not about the basics of SEO; we discuss how SEO helps CMOs reach their marketing goals and grow their business, and seven benefits CMOs need to know. Without further ado, let's dig deeper into finding ways to execute a proper SEO strategy for your business.
How SEO helps with your Business Growth?
89% of consumers begin their buying process with a search engine
To make your business more visible, you need to optimize your website based on the user intent, and provide them with the best information through your website. SEO can help your business with bringing users from all stages of a buyer's journey; from recognition to purchase or a post-purchase stage.
It's your content and optimization that decides who the website visitors would be. So, CMOs should always rely on long-term SEO strategies to drive result. Implementing the right SEO strategies will help your business achieve the following benefits:
Brand Awareness
70% of consumers check if they get any "known retailers" in the search result list
SEO always plays an inevitable role in creating brand awareness. Users won't be searching your brand's name when you have a new business/brand/website but, you can strategically use SEO to reach the potential prospects looking for the services you offer. For example, using non-branded keywords or phrases related to your products/services to optimize the website will help you reach the users who look for the same service.
Suppose you are a Tech company and software development is one service you offer; you need to create a dedicated page for the service and optimize it based on users' queries to get ranked on top of search results. Here's how the Optimized Landing Page for Ignitho shows up on Google for the query 'Software development companies New York'.
Many websites providing the same service (focusing on the same keyword/phrase) will be listed on the search result pages, and your website should be there at any of the first 10 search results (top 5 is the best) to get the user's attention.
Using SEO for brand awareness is all the more critical for small businesses as they are competing with other established brands in the market.
Increase Website Traffic
80% of Search Engine users only focus on organic results
The best SEO strategy can bring quality traffic to your website. CMOs should be aware that organic traffic is more likely to convert, and implementing an effective SEO strategy based on Google's updated search algorithm will generate quality traffic to the website. Content is the key to SEO and keyword research is the foundation of an effective SEO strategy in order to drive relevant users to the website.
Keywords should be used in such a way that it conveys the site's content to the search engines. Using long tail keywords and phrases searched by users can help get better rank and relevant traffic. Using the right set of keywords will result in ranking your service pages, product pages or other landing pages to the top of Google search results.
Google's Ranking Algorithm Components
Data source: Vab Media
In addition to this, location-based keywords should also be included in your business' keyword list to bring users who go with a location-based service search. In short, focusing on the appropriate keywords and following the right optimization rules will lead to better rank and visibility to your business which results in increased traffic to the website.
Build Trust
94% of online customers are influenced by positive reviews of a business
SEO can build trust and increase credibility of your business. Achieving a higher rank on the search engine result page for different keywords itself can increase the credibility of your business. The quality of the content and the frequency maintained to update the website with new content are crucial in building trust, which can influence the users in revisiting your website for more information. Generating local reviews for your product/service is as significant as providing your customers the best service.
For example, if the website has all types of optimized content related to different services they offer; the site will be ranked on top for any keywords searched by a user. The keyword can be informational, navigational, commercial or transactional.
When a user notices the same website being ranked on top for all the related queries, for them it's not just a ranking website; they will consider it a credible source of information or a trustworthy website to submit a query.
Data source: Edelman Brand Trust Barometer
So, updating your website with authority content is an SEO technique to build trust and make your business well recognized.
More Traffic leading to More Sales Qualified Leads!
57% of B2B marketers state that SEO generates more leads
Implementing SEO strategies without considering the lead generation part means you are simply neglecting your future customers who came across your website. While practicing the best SEO strategies aligned with your business goals, you are satisfying both search engines and the website users.
Ranking your website for relevant keywords can also bring more sales qualified leads. "Compromising on the user's experience while optimizing your website for search engines lead to losing a potential customer who visited your website" User experience means the way the users interact with your website, or simply with your business. For them, what they see and experience on your site is your business. So, defining your lead and having a creative SEO strategy with the right usage of keywords from awareness, consideration and decision stage of your lead can help your business get sales qualified leads.
Data source: Salesforce
You can drive traffic to the service pages, product pages and landing pages to convert the visitors to leads. Adding CTAs (Call to action), live chat etc to these pages will increase conversions.
Lower Customer Acquisition Costs
64% of marketers started actively invested in SEO
You can convert your visitors to customers only when you have a good SEO strategy You need that content and authority, capable of converting your visitors. It's not simply selecting service-related keywords and writing about the services you offer! You need to care about your customers' needs and provide solutions to their problems using SEO and content strategies.
Bringing more relevant traffic to your website means more sales qualified leads (SQL) from your SEO strategies. More SQL means higher ROI.
Title: Channels offering lowest customer acquisition cost
Data Source: Databox
As SEO is the most cost-effective Digital Marketing strategy, you will definitely have the expected customer acquisition at a lower cost when you have the right strategy in place.
Better Rank in Local Searches
46% of all search queries have local intent.
General SEO results in high rank in niche-specific queries, whereas Local SEO generates geo-based results. Local SEO Means Increased Engagement, Traffic & Conversions. Local SEO is a method by which you can practice SEO even without a website.
The number of 'near me' searches is increasing every day, and if you miss realizing the importance of optimization for local searches, your business will miss the opportunity to generate qualified leads.
Google My Business: To Start with Local SEO
You can make a local business listing online or claim your business if Google has already picked it up and listed it.
Create/Claim your business on Google: To check if Google has already listed your business, you can search your business name on local Google. Claim your business and add business details
Update your business information: Ensure updating your business profile with the right information and post regular updates about products/services.
In short, even if you don't have a website, you can start with Local SEO for your business, and later create a website. When you focus on audience experience, search engines will find it and help you reach the right audience.
Most businesses are successful in bringing quality traffic to their website, and struggle with generating leads. Having discussed the seven benefits CMOs need to know, it's safe to conclude that SEO is undeniably vital for business growth, but where do you begin? And how can you know if what you're doing is having a beneficial influence on your business once you've started? Talk to our experts for the overview of your website's SEO performance. The first one is on us!